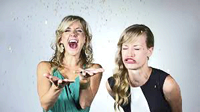 Slow Motion Video Booth
FOR LAST MINUTE BOOKINGS, DAY OF EVENT OR LESS THAN 24 HOURS.
PLEASE TEXT THE OFFICE.
403-651-1019
The posted rate for this product is up to 4 hrs.
If your event runs longer than 4 hrs. the price should change during the checkout process
If you are attempting to book over multiple days it would be best to contact the office to provide an accurate quote that may include any special or discounts available
Slow Motion Booths; A Lot more Fun, Than A Traditional Photo Booth !
Slow Motion Video Booth Rentals Start at $1495.00 for a Bronze Package
Tubby's Slo Mo Booth specializes in making memories in SLOW MOTION. Your guests bring out their inner action hero as we capture their antics in slow motion.This unique technology will make yours a memorable event.
The Slow Motion process is fun and interactive with IMMEDIATE gratification. Guests can post their clips within minutes to social media. The steps are simple:
First: Guests first pick out their props and plan the Slow Motion shoot.
Second: We push start and shoot the scene.
Third: We replay the clip and they determine it they like it. If they don't like the clip, they can restart the shoot.
Fourth: Guests are presented with 30 still images from the video. They can choose up to four images from the video they'd like to have printed on 4×6 photo paper for memories that will last a lifetime! Most customers elect to have the fourth image be of a graphic specific to the event. i.e.
While pictures are printing, the guests can share their slow motion video with the world through social media posts or email!
Finally, after the event, we condense the clips into a video and send it to you for a keepsake!
With our unique software an event image can be placed in the corner of the video. In addition Pre & Post flash images can be placed in each video further branding the special day or the event.

PRICES ARE EXCLUDING GST
For package discounts or orders of multiple items send your request to
info@tubbys.ca
Delivery may be in addition to the rental of the item.
Deliveries to City parks & certain locations, i.e. downtown, parks, Locations where
event location is not accessible for delivery to set up location directly from the
delivery vehicle, may be subject to additional charges.
All Non grassy outdoor set-ups for inflatables require tarps and sandbags for
anchoring purposes, charges may apply.
Some items require power, Some items require water.
A credit card is required to be on file for any additional charges and for Security/damages for all bookings. This includes excessive cleaning.
We offer different payment options
Visa, Mastercard, Etransfer, EFT, Cash or group/corporate cheque, with prior
approval.
Credit card transactions are subject to a 4-5.5% transaction fee.
A 50% deposit is required to secure all bookings.
Cancellations (deposits) due to weather of orders of a single inflatable are
refundable prior to dispatch of delivery vehicle, less a $25.00 admin fee.
Method of payment for the balance of the invoice is to be confirmed 3 business days
prior to event.
Scheduled delivery hours are from 9 am-9 pm (or 30 min before sunset on outdoor
rentals).
Additional Charges apply for delivery/pick up outside these hours.
An optional Damage waiver of 10% will be added to each rental. It is Optional and
you can request that it be removed from the invoice. Deleting the coverage must be
done prior to the order being confirmed.
The damage Waiver covers any damage that occurs during normal use of the
equipment.
Does not include damage due to negligence.
For cancellations, changes to order with multiple items follow the link below for
complete details.
For complete terms and conditions, including cancellation terms follow this link
Order minimums of $100.00 apply.
You may still order items of less than $ 100.00.
However there may be additional charges on these items.


Slow Motion Video Booth not exactly what you want, Maybe Looking for a Photo Booth Rental?
WE have some of the Coolest

Photo Booth Rentals in Calgary.
Video Flip Books. Make your wedding the hit of the Year.
Video Flip Books, Slow Motion Video Booths, Photo Booths and Air Graffiti are all Fun Ideas for Wedding Rececptions,Trade Shows, Corporate Events, Corporate Branding, Product Branding,Product Launches, Fan Apprection Events and so much More!

Due to use, maintenance and Inventory, item may appear with different colors, designs & or finishes.
Please contact the office and request specific information if required
We rent, only well made, properly designed and built Inflatables, Games & Equipment
for the commercial rental market, from the industry's leading manufacturers.

Tubby's will Match or Beat any Quoted or Listed price on the Same or Similar Equipment.
Certain Conditions Apply.